Cruise Moab: Wed. April 20 – Sun. April 24, 2022
Pre-runs start Monday, April 18, 2022
Location for Cruise Moab headquarters
Cruise Moab 2021 Headquarters will be hosted at:
Old Spanish Trail Arena
3641 S. Highway 191, Moab, UT 84532
---
More details will be available later in the year. For now, here are some of our standard details:
Camping will be available at the Old Spanish Trail Arena. You can pitch a tent on the race track for $10/night. You don't need a reservation if you're tent camping. They also have a few spots for campers with hookups for electric & water, which you will need to reserve in advance. More details here.
---
Trail Selection
Cruise Moab separates event registration from trail selection. This will allow us to use a powerful scheduling app to help you manage your trails. That means you'll be able to change trails from your phone, tablet, or laptop without having to find a member of the Cruise Moab committee. We think this will be a huge upgrade!
We will be running the classic Moab-area trails you've loved in the past (or have heard about if this is your first time).
Trail selection will take place starting at the beginning of March or so. We'll give you plenty of notice ahead of time on how to get ready to choose your trails. But you will want to look for an email that morning so you can select all your trails.
---
TLCA membership is required
Cruise Moab is a TLCA sanctioned event, and you are required to be a TLCA member to participate. We could not have Cruise Moab without the insurance that TLCA makes available to us. Therefore, all registrants at TLCA sanctioned events must be current TLCA members. Click here to join TLCA or renew your membership.
---
Non-Toyota participants
We do allow registration and participation for non-Toyota based vehicles, but keep in mind that you're attending a Toyota 4WD event. Be prepared to endure some friendly teasing, especially if your vehicle breaks on the trail. It's likely that by the time you depart, you'll want to sell your rig and buy an old Toyota. Please note: regardless of your vehicle, you must be a TLCA member.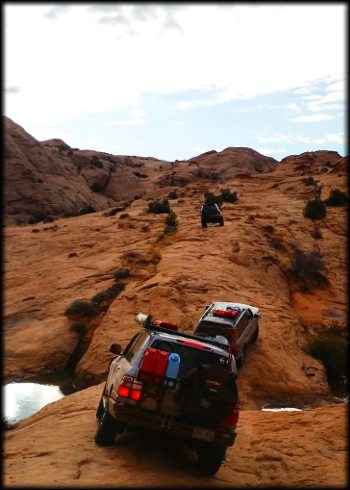 ---
More information about Moab and trails
Area Trails from Utah.com – if you want a second opinion after reading the trail descriptions listed on our website, check these out.
---
History of Cruise Moab
The whole thing started with an unofficial, exploratory run back in 1996. Click here to read the whole story.
---
Contact the Cruise Moab team:
If you have a question we haven't answered, send an email to registration@cruisemoab.com
Thanks!