Cruise Moab: Wed. April 27 – Sun. May 1, 2022
Pre-runs start Monday, April 25, 2022
Location for Cruise Moab headquarters
Cruise Moab 2022 Headquarters (Registration, Check-in, Tech Inspection, Vendor Night, Raffle Dinner, etc) will be hosted at:
Old Spanish Trail Arena
3641 S. Highway 191, Moab, UT 84532
---
Cruise Moab price for 2022 (and what's included)
The price for early registration is $225. Regular registrations will be $250 (after Feb. 15).
Additionally, BLM fees are $20 per person (driver and any passengers). For most people, that means your minimum total will be $245 (assuming you register before Feb. 15). However, if you're not running ANY trails, you don't have to pay BLM fees.
Registration includes: participation in the whole Cruise Moab event including: guided trail runs, Thursday night Vendor Showcase, the famous Friday night dinner & raffle (including 1 dinner), one raffle ticket, one event sticker, and one official event t-shirt. There may be additional included swag as well! Registration is per vehicle; if you have passengers, you only need to register once.
---
Registration: what's not included.
Here are additional items you can choose when you register:
BLM fees for any passengers in your vehicle
Extra dinners for the Friday night dinner for your friends and family (optional)
Extra t-shirts for your passengers and friends back home (optional)
Additional official merchandise, including hats, hoodies, kid's t-shirts, etc. (optional)
Three more raffle tickets at $25 each. These will only be available during registration (see below — this is different than previous years).
Here are items you can purchase when you're in Moab:
Entrance fee to the national parks for the Elephant Hill trail (in Canyonlands National Park) and/or Arches National Park Family Run. One entrance fee will get you into both parks for 7 days. The vehicle entrance fee is $30 and includes all the occupants of your vehicle. If you already have a National Park pass, you will not need to pay this fee.
Gear at vendor night. Not all vendors will have stuff for sale, but many do, and it's really cool stuff.
Really expensive Utah beer
Overnight Run Fee
If you choose an overnight run, an additional $25 (per vehicle) for food and permit costs may be required, depending on which run you select. This is only for people who choose the Kokopelli or the San Rafael Swell overnight run, where the leaders may be providing a meal. Trail selection will start in March (we'll notify you so you don't miss it).
---
NEW

: For 2022, tickets for the Friday night raffle will be available during registration only. PLEASE READ THIS.

We're making a huge change for the big raffle. Here's the deal.
Your registration for Cruise Moab will include one (1) raffle ticket.
During registration, you can buy up to three (3) more raffle tickets at $25 each. This is an optional, one-time opportunity to get additional raffle tickets.
No raffle tickets will be sold during Cruise Moab. (Yes, this is a huge change from previous years).
All money from raffle tickets will go to land use organizations that fight to keep our trails open.
The only other way to get an additional raffle ticket is to lead a trail. You can get one (1) additional raffle ticket for each trail you lead.
To repeat: you can only buy additional raffle tickets during registration. If you skip buying additional tickets during registration, you'll just have the one ticket. There will be no second chance to buy more tickets.
---
Camping and other accommodations
Camping will be available at the Old Spanish Trail Arena. For maximum fun, camp right at our event headquarters. For the best Cruise Moab experience (especially if this is your first Cruise Moab), we highly recommend camping right at the Old Spanish Trail Arena. There are lots of options for camping, from pitching a ground tent on the race track to sleeping in a roof-top tent or a camping trailer — there are even a few spots for RVs with hookups for electric & water, which you will need to reserve in advance. More details here.
Please note: camping is not included in your registration fee.
If you prefer to stay in a hotel or condo, we recommend looking for a place on the south end of town.
---
Sign up to be a trail leader for Cruise Moab
Willing to lead a trail? We'd love your help. Click here to provide your information and we will follow up. Please note: submitting your information does not obligate you to lead a trail — if you're interested in leading but have a few questions, please go ahead and fill out the form! If you prefer, email us at registration@cruisemoab.com.
---
NEW

: Trail Selection

For the 2022 event, we have an all-new trail registration process that will take place right here on the Cruise Moab website. We know there was some frustration with the "Sched" app we used in 2019 and 2021 — we will not be using it for the 2022 event. Hopefully this will be the best trail selection process ever in the history of Cruise Moab.

Trail selection will take place starting at the beginning of March or so. We'll give you plenty of notice ahead of time on how to get ready to choose your trails.
---
Sponsorships & Vendor Showcase Night Exhibitors
Our Vendor Showcase on Thursday night has grown to be one of the favorite parts of the event for many people. If you're interested in exhibiting for your company or sponsoring a trail, we'd love to talk with you! Please send us an email. All prospective vendors must coordinate with our committee in advance. Due to the popularity of Vendor Night at Cruise Moab, we may not be able to accommodate all interested groups.
Please note: all exhibitors and sponsors must be registered as Cruise Moab participants, even if you don't plan to run trails (you can choose this option during registration).
---
TLCA membership is required
Cruise Moab is a TLCA sanctioned event, and you are required to be a TLCA member to participate. We could not have Cruise Moab without the insurance that TLCA makes available to us. Therefore, all registrants at TLCA sanctioned events must be current TLCA members. Click here to join TLCA or renew your membership.
---
Non-Toyota participants
We do allow registration and participation for non-Toyota based vehicles, but keep in mind that you're attending a Toyota 4WD event. Be prepared to endure some friendly teasing, especially if your vehicle breaks on the trail. It's likely that by the time you depart, you'll want to sell your rig and buy an old Toyota. Please note: regardless of your vehicle, you must be a TLCA member.
---
Schedule of Events
Our 2022 schedule isn't finalized, but this is pretty close.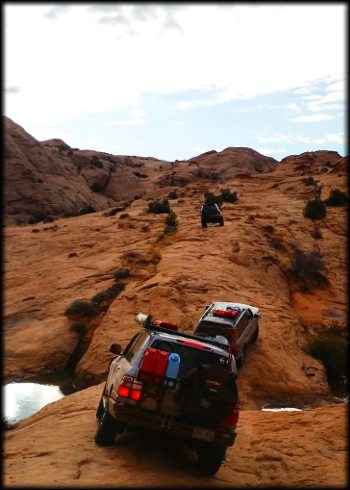 Monday, April 25th 
Kokopelli #1 overnight run begins
Tuesday, April 26th 
Kokopelli #2 overnight run begins
Many people on the San Rafael Swell will choose to arrive Tuesday afternoon (optional)
Wednesday, April 27th
For most participants, we recommend arriving on Wednesday as early as convenient.
Registration Check-In, Orientation, and Vehicle safety inspection
8:00 am – 12noon / 2:00 pm – 6:00 pm
San Rafael Swell overnight run begins
Night run on Hells Revenge trail
Thursday, April 28th
Check-In / Vehicle Inspection: 7:00 am – 8:00 am
Guided trail runs: 9:00 am
(a few trails will have early departure times)
Vendor Showcase Night: 6:00 pm
Friday, April 29th
Check-In / Vehicle Inspection: 7:00 am – 8:00 am
Guided trail runs: 9:00 am
(a few trails will have early departure times)
The famous raffle & award dinner: 6:00 pm
Saturday, April 30th
Guided trail runs: 9:00 am
(a few trails will have early departure times)
Huge campfire: about 8:00 pm
Sunday, May 1st
---
COVID-19 protections at Cruise Moab 2022
We'll be following all the Covid guidelines and restrictions from Grand County, the South Eastern Utah Health Department, the Old Spanish Trail Arena, and the state of Utah — whatever they are starting April 25, 2022. That could mean you need to wear a mask indoors. We'll keep you updated as we get closer to the event. Obviously, this changes from month to month.
---
More information about Moab and trails
Area Trails from Utah.com – if you want a second opinion after reading the trail descriptions listed on our website, check these out.
---
History of Cruise Moab
The whole thing started with an unofficial, exploratory run back in 1996. Click here to read the whole story.
---
Contact the Cruise Moab team:
If you have a question we haven't answered, send an email to registration@cruisemoab.com
Thanks!